Best Portable Dry Herb Vaporizers
Does smoke irritate your lungs? Looking for a better alternative to smoking but don't want to give up your dry herbs or tobacco? Dry Herb Vaporizers are a great option as they allow you to enjoy your choice of herbs or tobacco by heating them to a temperature under the combustion point. This allows you to extract all the different flavors and aromas. The coil is heated up to the perfect temperature where the chemicals are vaporized, but not combusted.
Dry herb vaporizers have both desktop and portable versions. Portable vaporizers have an enhanced battery life along with a temperature control function that allows you to heat the herb at any temperature you want. Desktop vaporizers are bigger and don't require a charge in between uses.
A typical vaporizer will consist of either a ceramic or metal heating chamber, a battery of either an electric or butane energy source, and a fine screen or a filter. The biggest difference is how the unit is heated, either by a conduction unit or a convection unit. Conduction units heat the material via direct contact with a heat source. This can result in incidental overheating of some parts of the chamber, which can cause accidental combustion and a harsher flavor. Convection units heat the material by passing heated air through the chamber. This results in a more even temperature range throughout the chamber and overall better flavor due to less risk of inadvertent combustion.
In order to get the perfect hit from your vaporizer, you should use a grinder to break down the dry herbs or tobacco. A fine grind makes all the difference between a so-so vape experience and a great vape experience.
Top Portable Dry Herb Vaporizers of 2019
Arizer Solo II Vaporizer: Best Value Dry Herb Portable Vape
The Arizer Solo II vaporizer is one of the best portable vaporizers for dry herb on the market today thanks to the work that Arizer has done on this sequel to their popular Arizer Solo.
The Arizer Solo II features an LED display, precise temperature control, and Arizer's famous all glass vapor path. While the exterior structure is very close to the original Arizer Solo with a slimmer profile, they've made modifications that are well worth your time and money. Depending on your heat settings, you can get just under 3 hours of battery life, which is double that of the original Solo and 4 times that of the Arizer Air. Arizer has gained a reputation for having excellent manufacturing quality and is known for reliable products; the Solo II does not disappoint.
The Pros:
Manufacturing Quality

Battery Life

Portability

Ease of Use
The Cons:
Size

Not for Heavy Users

Not an all-in-one Solution
Takeaway
It's great to see a company that's been listening to their users, as the Solo II seems to address a lot of shortcomings that the original Solo fell short on. It's smaller, has longer battery life, and has features like digital temperature control and quicker heat up times. It's still not small enough for most pockets, but they have other options in their catalog such as the Arizer Air. Some users may be disappointed with the lack of replaceable batteries or a session timer display, but the Arizer Solo II seems to hit most of the buttons on a great redesign of a classic vape.
GHOST MV1 Vaporizer: Best On-Demand Dry Herb Portable Vape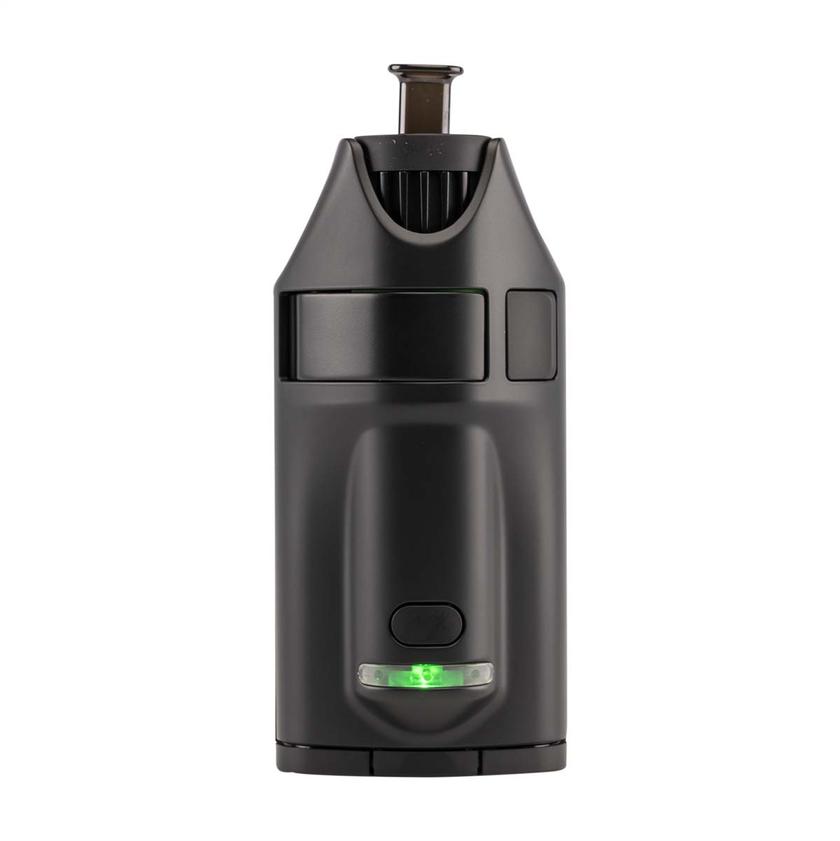 The Ghost MV1 vaporizer portable vape is designed for use with both dry herb and concentrates via on-demand convection heating. That means it heats your material solely with super-heated air; you heat it up for just one draw at a time for maximum efficiency.
The metal alloy body is solid, durable, and has a bit of weight to it which makes you want to keep it out on the table as a statement piece. It is also extremely ergonomic, fitting in your hand comfortably. Its retractable mouthpiece has a removable ceramic herb chamber, a removable long-lasting battery pack, and all of the internals can quickly be accessed for easy cleaning. The heat sink assembly at the top is very effective at reducing the temperature of the vapor before it exits the vaporizer, producing a potent, flavorful, and smooth vapor.
The Pros:
Smoothness of Vapor

On-demand pull

Long Battery Life

Retractable mouthpiece
The Cons:
Long Charge Time

Complicated Cleaning Procedure

Temperature control only available via smartphone app
Takeaway
This is Ghost's first product to market. They've done a great job with the MV1's eye-catching design and is a great all-around on-demand convection vape. The MV1 works best when fully loaded, and you can expect between five to 12 hits on a single crucible for all-day dosing. The battery is long-lasting, but you can expect a long charging time to make up for it at the end of the day. While the crucibles they use provide a convenient way to load up and get vaping, there has been a lot of discussion as to the ease of using them. The lid doesn't clip onto the base, it just sits on top, and requires a level of manual dexterity to load the crucible, secure the lid, and insert it into the oven door.
Mighty Vaporizer: Best First-Time Users Dry Herb Portable Vape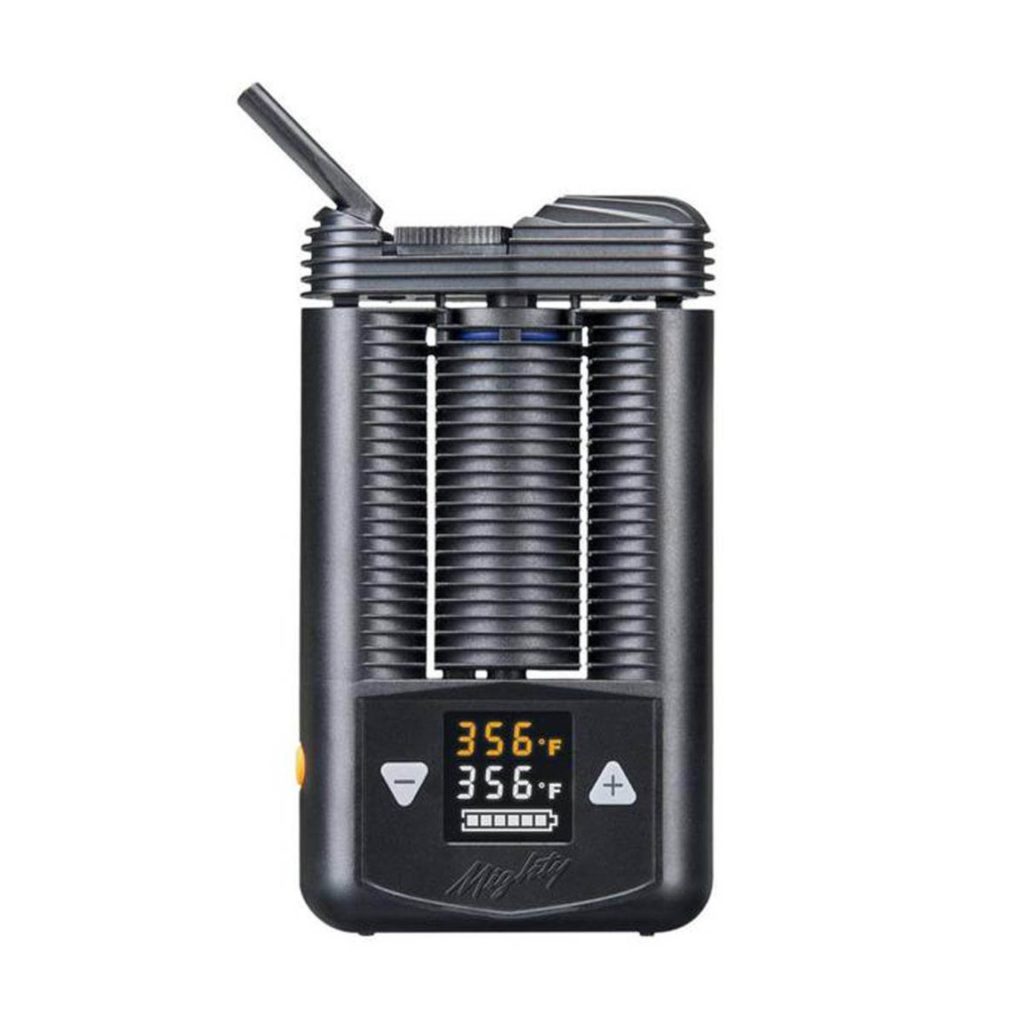 The Mighty vaporizer by Storz & Bickel is a great choice for those looking to carry a great vapor quality around with them. It boasts great battery life, and an extremely durable, high-quality construction. The Mighty is a little too big for most pockets, although it's easy to throw in a purse or bag. It's better to think of it more as a convenient, cordless vaporizer for home use. It's about twice the size of the Crafty, which gives you room for full onboard controls.
The Mighty is just as powerful as the manufacturer's smaller version, The Crafty. It's more reliable and a better long-term performer thanks to a lower defect rate.
The Pros:
The consistency of dense clouds

Convection And Conduction Heating

Long Battery Life

Easy to use
The Cons:
Takeaway
This is a great first-time dry herb portable vaporizer. The bigger size, while not great for some, gives the Mighty 90 minutes of battery life, double that of The Crafty. You're also not dependent on a smartphone app like some vaporizers thanks to the large display screen that shows temperature readings and battery life built right into the structure.
DaVinci MIQRO Vaporizer: Smallest Dry Herb Portable Vape
The DaVinci MIQRO is the smallest dry herb portable vaporizer on the market, so small it disappears in most people's hands. Even with its small size, it's super powerful for micro-dosing and allows for up to 30 minutes of use. You can adjust the oven size by 50%, consuming less herb while still getting the desired dose. The DaVinci MIQRO has an all zirconium ceramic vapor path and mouthpiece that provide pure flavors every time.
The DaVinci MIQRO is unmatched in power with advanced vaping technology packed into its small size. Although, it can provide a less-than-optimal experience at both lower and higher temperatures. It's not the best choice for heavy users, but if you're looking for a portable vaporizer that's small and discrete, the DaVinci MIQRO is the best option for you.
The Pros:
Small and compact

Great for micro-dosing

Beautiful design

Easy to use
The Cons:
Not good for heavy users

Lower/Higher temperatures have suboptimal experiences.
Takeaway
The DaVinci MIQRO is the best choice for you if you're not a heavy user or if you're looking for discretion over a bulky vaporizer that doesn't fit in your pocket. There are some issues at lower and higher temperature settings: at lower temperatures, the clouds can be unimpressive, while at higher temperatures, the flavor sometimes deteriorates, causing the vapor to become harsh. All that said, there isn't a smaller portable vaporizer as powerful as this micro-dosing vape.
Flowermate V5S Vaporizer: Best-Priced Dry Herb Portable Vape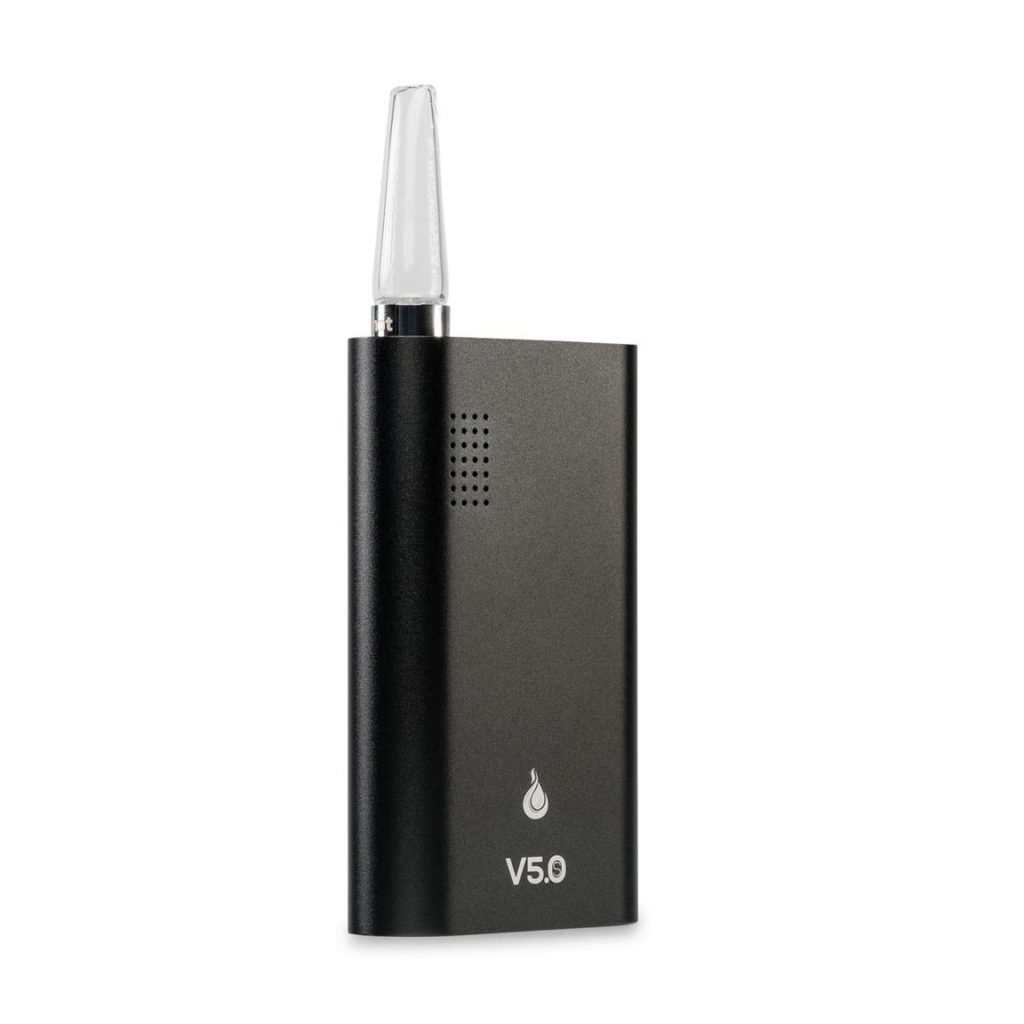 There are cheaper portable starter vapes out there, but the Flowermate V5S Vaporizer is the best on the market for the money. If you have ever wanted to get started vaping, but were concerned the cheaper options weren't as safe or thought the higher-end vapes are too expensive, the Flowermate V5S is the option for you. It doesn't require any real learning curve and is very easy to clean and maintain.
The Flowermate uses conduction heat to vaporize your aromatic blends with a ceramic heating chamber that is specifically designed to ensure your material is evenly vaporized, even if the quality of the vapor isn't really equivalent to the higher-end models. The charger is a convenient USB, so you can charge your Flowermate via a USB wall plug or computer.
The Pros:
Best quality for the price

Great battery life

Easy to use
The Cons:
Not the best vapor quality

Draw resistance
Takeaway
The Flowermate V5S is the best option for those that are new to vaping or just looking for a something under $100 as a reliable backup. It's not the greatest on the planet, but it's a solid competitor; you won't have to worry about any health risks like with some of the cheaper models.  
Pax 3 Vaporizer: Most Reliable Dry Herb Portable Vape
The Pax 3 is a standout, coming in as the best option for those who are looking for a portable vaporizer that can fit in your pocket and keep up with an active lifestyle. The anodized aluminum body is strong and durable even with the high-polished finish. If you're looking for a sturdy yet compact vape, this is the choice for you. The Pax 3 really is built like a tank and can take a serious beating, surviving any drop and any weather. It's a great choice if you're looking for a vape to take with you for outdoors activities. The only negative to its appearance is the high-polished finish tends to scratch.
While not as small as the DaVinci MIQRO, it's still very compact and very lightweight, coming in at 95 grams. Since it doesn't have a mouthpiece, you can grab it right out of your pocket and take some puffs after just a moment or two. You will also get a solid 90 minutes of battery life out of this discrete vape.
The Pros:
Small and compact

Fast heating

Reliable

Sturdy
The Cons:
Needs a larger amount of herbs to operate  

Sometimes unimpressive clouds

The scent carries from vape
Takeaway
The Pax 3 is a great piece of equipment, keeping up with all your needs in a small compact body. The only negative is the oven lid is not airtight, so the scent of your vape might be overwhelming at times. If you're using the vape in a public space and trying to be discreet, this is not the vape for you. The smell doesn't linger long after you've finished, so after you empty your bowl it will dissipate quickly.
There really aren't any other real problems with the Pax 3. It's the most reliable unit for the price and will keep up with whatever you put it through.
Firefly 2 Vaporizer: Most Flavorful Dry Herb Portable Vape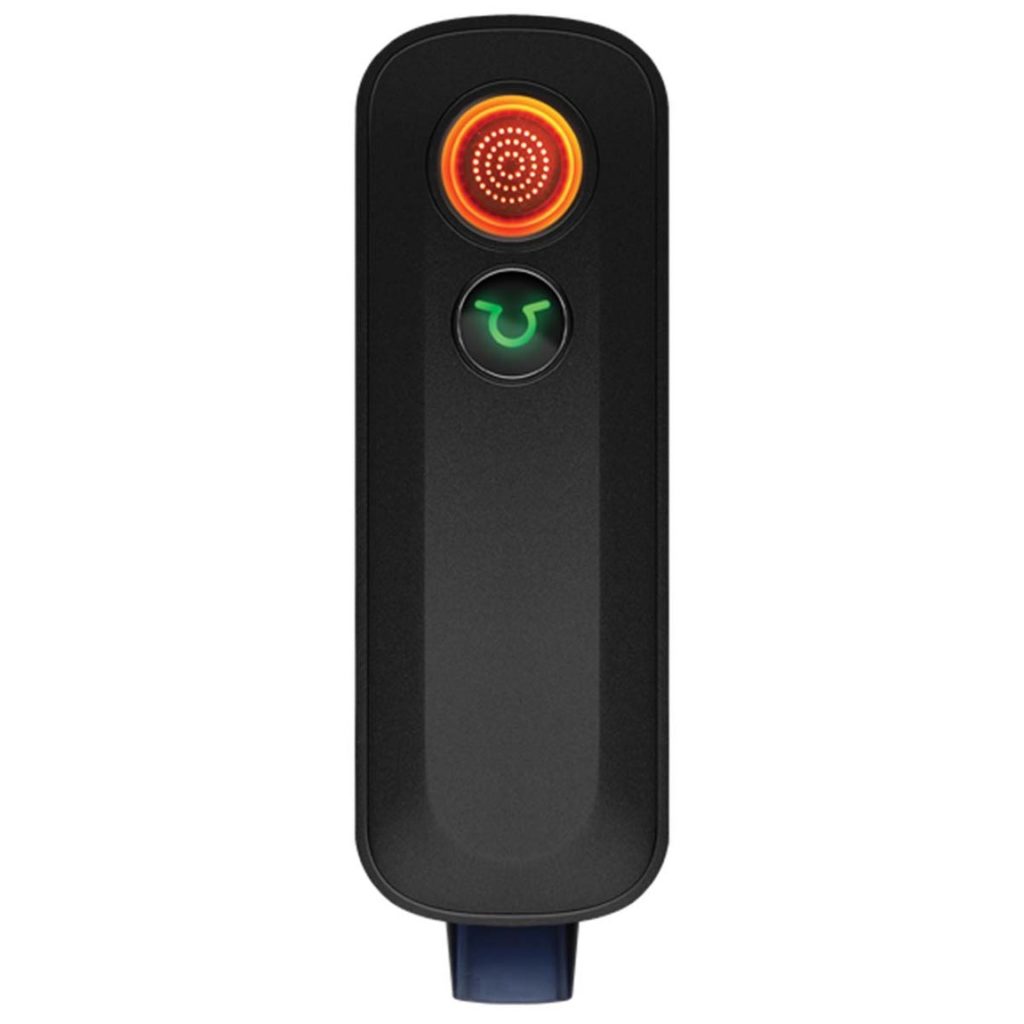 The Firefly 2 is really the King of Flavor. It provides the smoothest, purist, and tastiest vapor of any portable vaporizers on the market. You'll be able to taste all the subtle differences your dry herbs or tobacco can provide. Getting your Firefly to produce high-quality clouds of vapor isn't always easy though, so if you need large and steady clouds for your vape experience, you may want to look at the other vapes on this list.
Cleaning is quick and easy on the Firefly, along with being another on-demand system for you to use easily whenever you'd like.
The Pros:
Best vapor quality

Uses a small amount of herbs

Easy to clean
The Cons:
High learning curve

Unimpressive clouds
Takeaway
The Firefly 2 really is the best choice out there if your biggest priority is flavor. The learning curve isn't for beginners, and if you're looking for something that gives you impressive clouds, this may not be the dry herb portable vaporizer for you.
Boundless Tera v3 Vaporizer: Most Powerful Dry Herb Portable Vape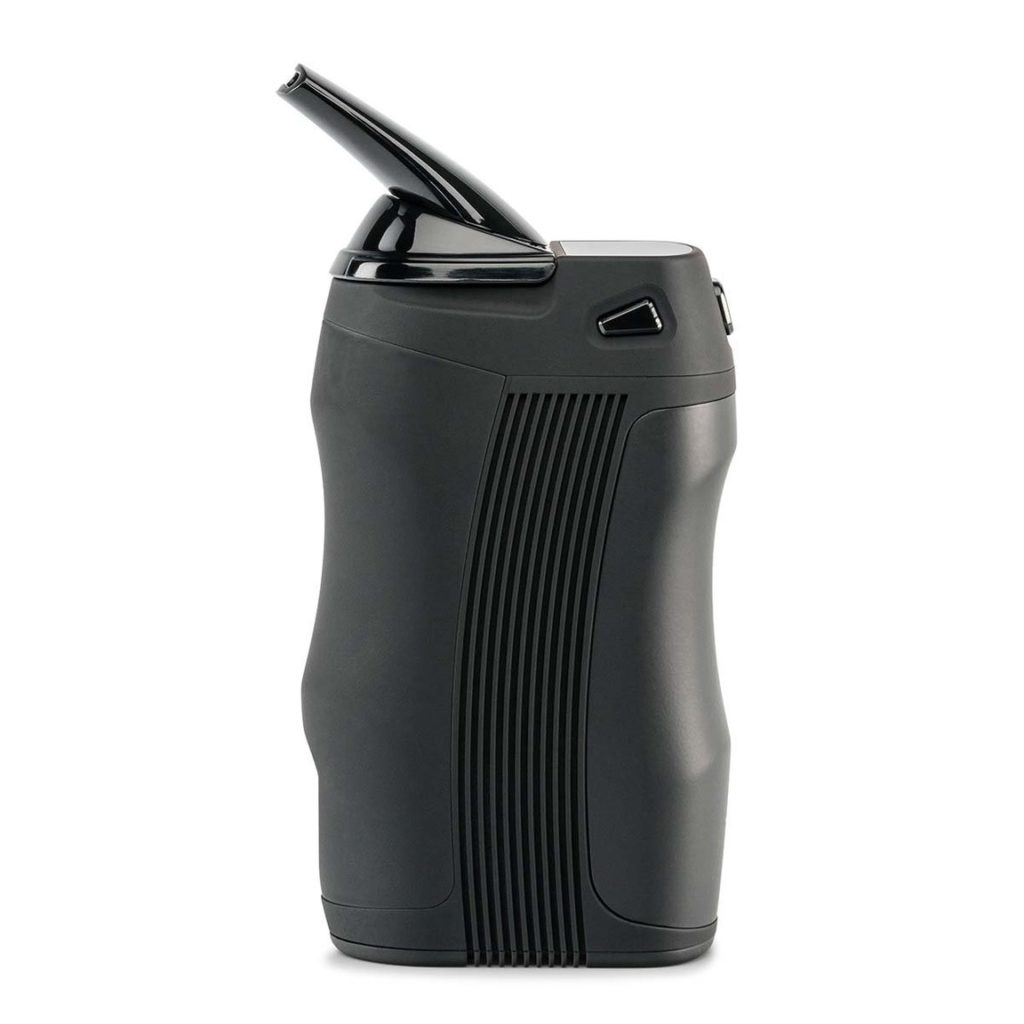 The Boundless Tera v3 is a great vaporizer for those looking for convection heating with a strong tasty vapor, replaceable batteries, even extraction with no need to stir, and a larger sized body on their vape. You have full control over the effects of your vapor with the precise temperature control.
The purity of the flavor quality can be harsher than it should be on the higher temperature setting. This is thanks to the lack of a proper cooling mechanism within the Boundless Tera v3, so pay close attention if you don't want your vape flavor harsher than it should be.
The Pros:
Powerful hits

Great value

Easy to use
The Cons:
Harsh vapor on higher temps

Plastic smell
Takeaway
The Boundless Tera v3 is a good option for anyone looking for a powerful hit every time from a vaporizer, even with the cooling issue that comes up. If you know much about Boundless, you know that they are big fans of including water filtration in their vapes. Included with the Tera is a WPA which allows you to easily mate your vape to any 10, 14 or 18 mm male or female glass connection. This makes it compatible with most of your favorite glass pieces.
DaVinci IQ Vaporizer: Best Taste Dry Herb Portable Vape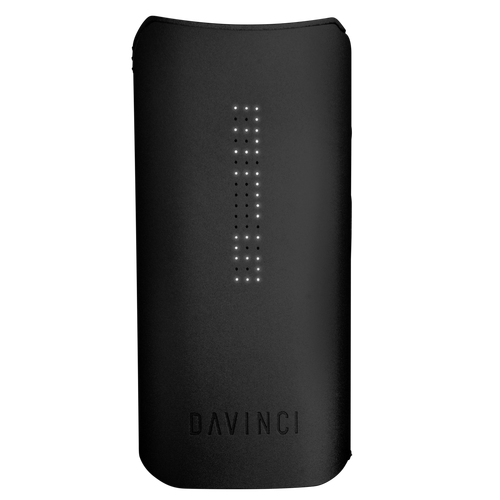 The DaVinci IQ is the second most compact portable dry herb vaporizer on our list, and it lives up to expectations. You can fully hide it inside the palm of your hand, provides impressive clouds, and keeps a clean flavor. Due to its ergonomic shape and aluminum shell, this vape has the perfect balance between small size and a strong presence.
The Pros:
Small and compact

Great vapor quality

Replaceable batteries
The Cons:
Too hot on higher temps

Slow charge-up time
Takeaway
The DaVinci IQ vape is mostly made from metal and ceramic and feels a bit heavier than you would expect for its size. It's not so heavy that it feels bulky and still works great as a pocket-friendly dry herb portable vaporizer. If there are any negatives to this vape, it's that it is a conduction vaporizer, which means that sometimes the smell is quite strong, especially when you're vaping. When you turn it on, it starts heating the dry herb, which causes the smell to spread out until it's turned off. So if you're looking for a discrete vape, this may not be the option for you.
How to Choose the Best Dry Herb Portable Vape
You may be overwhelmed after reading through this list to decide which vaporizer is right for you. The right vaporizer really will help make your experience that much better. If you are a beginner, it's important that you take the time to research and shop around for the perfect vaporizer for you. Going straight for the cheapest or most expensive dry herb vaporizer won't always provide you with the best options and can even make you ill.
How Do Dry Herb Vaporizers Work?
Dry herb vaporizers produce vapor from dry herbs, aromatics, and tobacco. They are made up of a heating coil, a dry herb chamber, and a mouthpiece. The dry herbs are placed in the chamber, which is separated from the heating coil by a tiny mesh to minimize the chance of combustion.
When the coil heats, the surrounding air is heated and the air is drawn through the mesh to heat the dry herbs. The active compounds in the herbs are turned into a vapor that you then inhale. This process creates the whole vaping experience, if the herbs end up combusting, it can result in a very poor experience. The intensity of the heated coil determines the strength of the hit you receive, so the higher the temperature, the stronger the vapor.
There are two size types of dry herb vaporizers; desktop and portable. As the names suggest, the desktop versions are not meant to be moved around and taken with you, unlike the portable dry herb vaporizers. All of the recommended dry herb vaporizers in this article are portable, but each of the product descriptions let you know if they're pocket-sized or not.
Convection VS Conduction (Heating Method)
Along with deciding whether you want a desktop or portable vaporizer unit, also consider what type of heating method you prefer, convection or conduction.
Some vapes use a combination of convection and conduction, while some use one heating method or the other. If you do a search online, you may come across reviews that lean more towards one over the other. Your heating method gives life to your vape, but it's your personal choice as to which one you prefer.
Materials
Dry herb vaporizers are made using several materials including plastic, stainless steel, glass, and ceramic. Plastic vaporizers have a low tolerance to heat and produce a characteristic taste and smell when heated, which impacts the vaping experience. Stainless steel devices usually have solid construction and are easier to maintain than other materials. Glass and ceramic materials are inert and do not affect the taste or aroma of your herb. Glass is easier to maintain than ceramic, but glass and ceramic bodies are much easier to break than plastic and steel.
Airflow
Airflow is just as important on your portable dry herb vaporizer as any of the other components for the best experience. The mesh and mouthpiece allow or restrict the amount of vapor that comes through the body, and allows you to find the desired airflow.
FAQ
What is the optimal vape temperature for dry herbs?
It depends on what dry herb, aromatics or tobacco you're planning on using. Warmer temperatures produce harsher, more visible vapor, while lower temperatures produce flavorful, mild vapor. The majority of modern vaporizers have a temperature control option, allowing the user to set the exact temperature.
How can I tell when my herb is finished or completely vaporized?
You will be able to tell by the flavor, the amount of vapor, and how many draws you have taken. There is no exact formula to this, and vaporizers do not tell you when it is time for a new bowl.
Does a vaporizer smell like weed after (or while) using it?
It will smell, but much less than smoking. While you vape and inhale vapor, the vapor produces a mild scent that dissolves quickly even in a closed environment. Unlike smoking, it will not 'stick' to anything, and will not make your breath smell. After using your vape it is best to empty and quickly clean the oven to eliminate any odors.
User Instructions/Manuals
Arizer Solo 2 User Manual – https://cdn.shopify.com/s/files/1/0209/9072/files/arizer_solo_2_vaporizer_manual.pdf
Ghost MV1 User Manual –
https://www.ghostvapes.com/product-manual
Mighty User Manual –
https://www.storz-bickel.com/media/wysiwyg/CRAFTY-MIGHTY/PDF/mighty-vaporizer-instructions-manual.pdf
DaVinci MIQRO User Manual –
https://www.davincivaporizer.com/content/user-manuals/miqro-vaporizer-owners-manual.pdf
Pax 3 User Manual –
https://www.paxvapor.com/skin/frontend/plm/default/assets/pax3-user-guide-v2.pdf
Firefly 2 User Manual –
https://www.thefirefly.com/media/Firefly2-UserManual_3.13.18.pdf
Boundless Tera User Manual –
https://cdn.shopify.com/s/files/1/0209/9072/files/boundless_tera_vaporizer_manual_english_planet_of_the_vapes.pdf
DaVinci IQ User Manual –
https://www.davincivaporizer.com/content/user-manuals/iq-vaporizer-owners-manual.pdf
We've gone over a lot of information about portable dry herb vaporizers in this article, but the more informed you are about them, the better decision you can make to find a vape that suits your needs. If you're a beginner, there are a lot of things to keep in mind as you search for your perfect vape. If you're a more experienced vaper, it's always good to keep up-to-date with the newest tech out there for your vaping needs. Hopefully, you can find something here that gives you the right information to find your perfect portable dry herb vaporizer.