Over time, a vaping connoisseur will collect a number of different vape pens, mods, and accessories. They will likely have their daily go-to of these, depending on features and what sorts of substances they like to vaporize. A desktop vaporizer, however, tends to be a much larger investment. Costs for a desktop model can begin at over $100 and run to several hundred dollars.
Many medical marijuana users prefer desktop models because of the high-quality vapor they produce. Desktop models have delivery methods which medical marijuana purists say is superior. Various desktop vaporizers offer a choice of taking the vapor through a whip or filling a bag and taking the vapor in that way. If you're a medical or recreational user in the market for a desktop vape, we'll take a look at some of the desktop vaporizers currently on the market. Read on for a look at nine desktop vaporizers.
Nine Desktop Vaporizers Reviewed
Volcano Classic: Best for Medicinal Users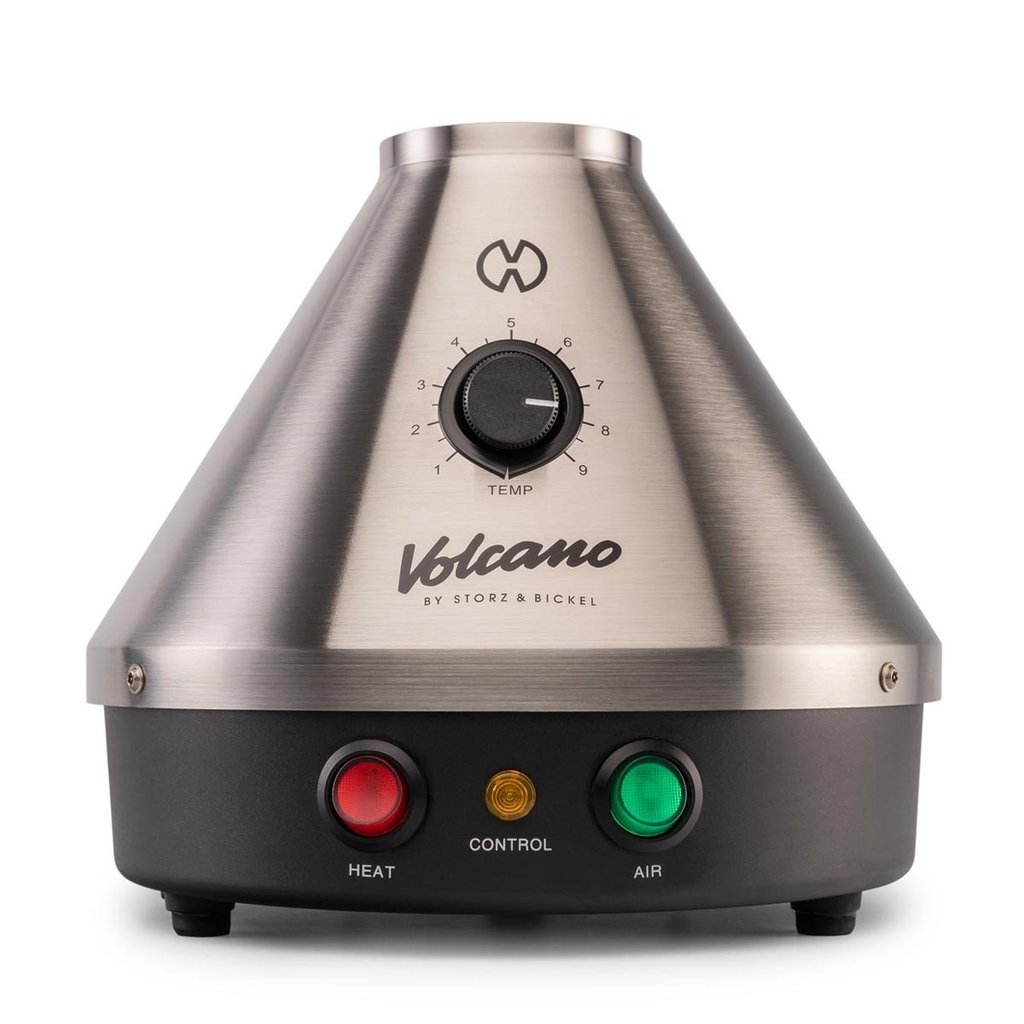 Storz and Bickel are kings of the desktop vaporizer industry. Since entering the market back in 2000, the Volcano Classic has been at the top of many a cannabis users' wish list, and for good reason. The patented bag-fill option places the user out of contact with the heat and the vaporizer. It also enables a caretaker to prepare the dose for those who are too ill or disabled to do so themselves.
The Volcano Classic is very easy to use. The dial controlling the heat has a selection of 1 to 9. It will remain powered until shut off and is available in solid-path and easy-path versions. It plugs into a standard wall outlet. It will also allow the user to choose the method of delivery: either by plastic tubing called "whips" or via a bag which is filled. The user can also choose between using both dry herbs or concentrates.
The Pros:
Outstanding vapor production

Low maintenance with an easy valve

Great for group sessions

Ease of use
The Cons:
Cost: At $479, there are cheaper alternatives available

Long heat up time

Noisy air pump
Takeaway
With Storz and Bickel, you know that you're getting quality construction and vapor production. While this may not be an option for those on a budget, saving up for the Classic will undoubtedly be worth it.
Volcano Digital: Best Overall Desktop Vaporizer
Another addition to the desktop vaporizer pool by Storz and Bickel, the Volcano Digit made some improvements over the Classic's design. By offering precise temperature control, the Digit allows users to dial in the temperature they need to release all those wonderful cannabinoids and terpenes. The Volcano Digit has a large display and easy-to-use temperature control buttons that are easily adjusted.
Like its predecessor, the Digit offers outstanding vapor production and design quality. It also offers either the easy-valve or solid-valve versions. Users can choose between using a whip or filling a bag and drawing the vapor from that. Like the Classic, users can also choose between using concentrates or dry herbs.
Pros:
Large, easy-to-read temperature display

Outstanding vapor production

Choice between flower and concentrate

Solid build
Cons:
Price: at $599, it's more expensive than even the Classic

Longer heat up time compared to other models

Noisier than other models
Takeaway
The Volcano Digit is definitely the number one vaporizer among both recreational and medical users. It is like the Classic in almost every way except that it allows for more precise temperature control and has an automatic shut off. If you truly want a phenomenal vaping experience backed by Storz and Bickel's outstanding quality, it's worth the price.
Vapir Rise 2.0: Best for Group Sessions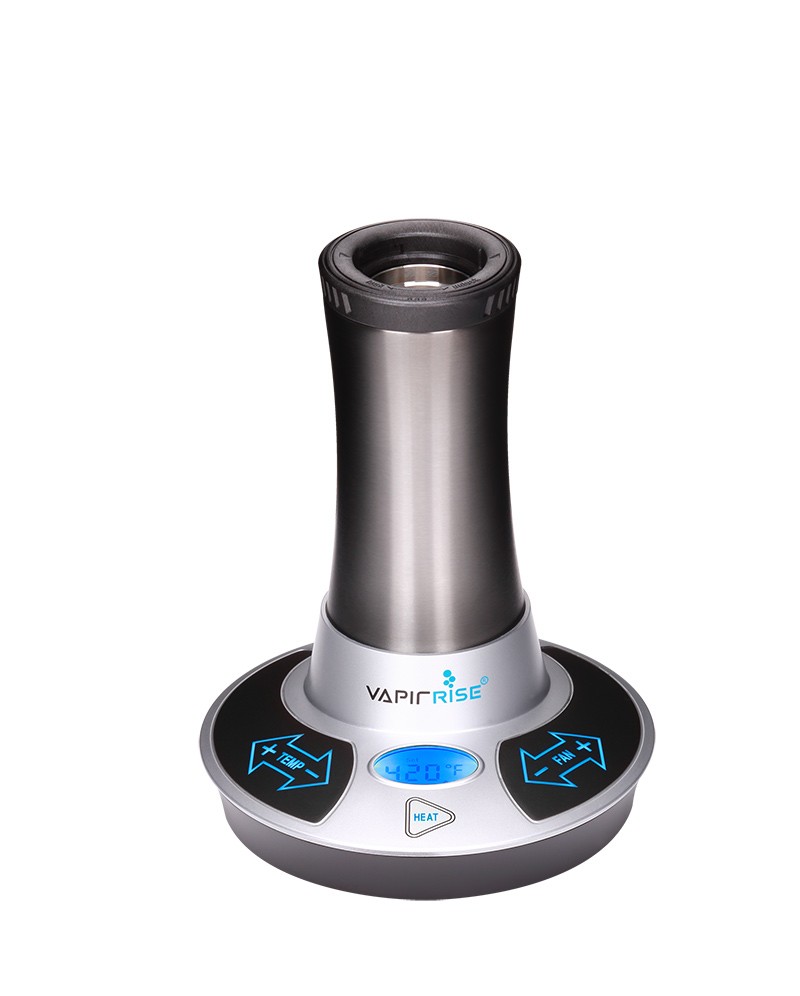 The Vapir Rise 2.0 is an improvement over the original model, which was intended to offer a more affordable option in desktop vaporizing compared to the Volcano. The Vapir offers both whip and bag options as well as a multi-user attachment for group sessions. While primarily designed for vaporizing dry herbs, the Vapir rise comes with a chamber that can be used for wax concentrates.
One of the major improvements that Vapir made to this model over the previous model is allowing the fan to be turned off when not drawing from the tube. This prevents any waste of product. The ceramic heating coils mean that only the purest, highest-quality vapor is produced.
Pros:
Design works equally well with whip and balloon

Vapes both waxes and flower

Easy to use

Offers an attachment that allows up to 4 users at a time

Precise temperature controls
Cons:
Bag mode setup is a lengthy process

The large number of parts can be confusing to new users
Takeaway
For a fan-driven desktop vaporizer, the Vapir delivers on quality for a modest price. One definite plus is the multi-user attachment, making this the perfect vaporizer to use in group settings.
Dr. Dabber Switch: Best for Those Who Want to Try Dabbing Without a Complicated Dab Rig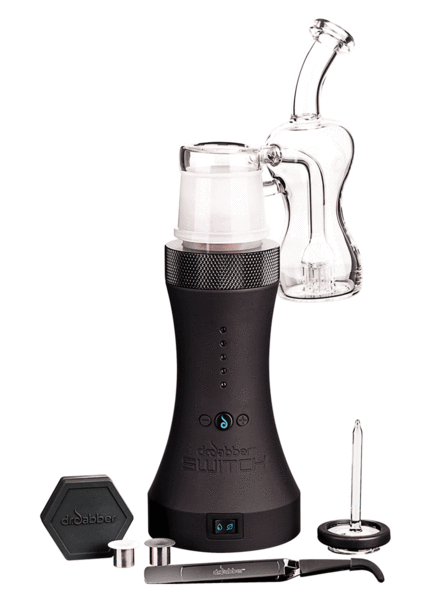 While the Dr. Dabber Switch is technically a portable vaporizer, its size means that it's not going into anyone's pocket, making it a contender for the best desktop vaporizer. Though Dr. Dabber primarily concentrates on, well, concentrates, the Switch allows for the use of dried flower with a flick of a switch. It also allows for temperature control. The switch relies on induction heating and has two cups in which to load product. Heat up time is less than 10 seconds, and it has a self-cleaning option that makes alcohol baths for the pieces unnecessary.
Pros:
Long battery life

Can vaporize both flower and concentrates

Self-cleaning

Quick heat up time
Cons:
Cost

The tools included can be awkward, according to some

Glass mouthpiece that is easily broken
Takeaway
For those who have put off buying a dab rig because of their complicated manner, the Dr. Dabber Switch is a good buy. Being able to also vaporize flower is a definite plus, and, although the cost is somewhat high, the device is worth it.
Arizer Extreme Q: Best Multi-functional Device at an Affordable Price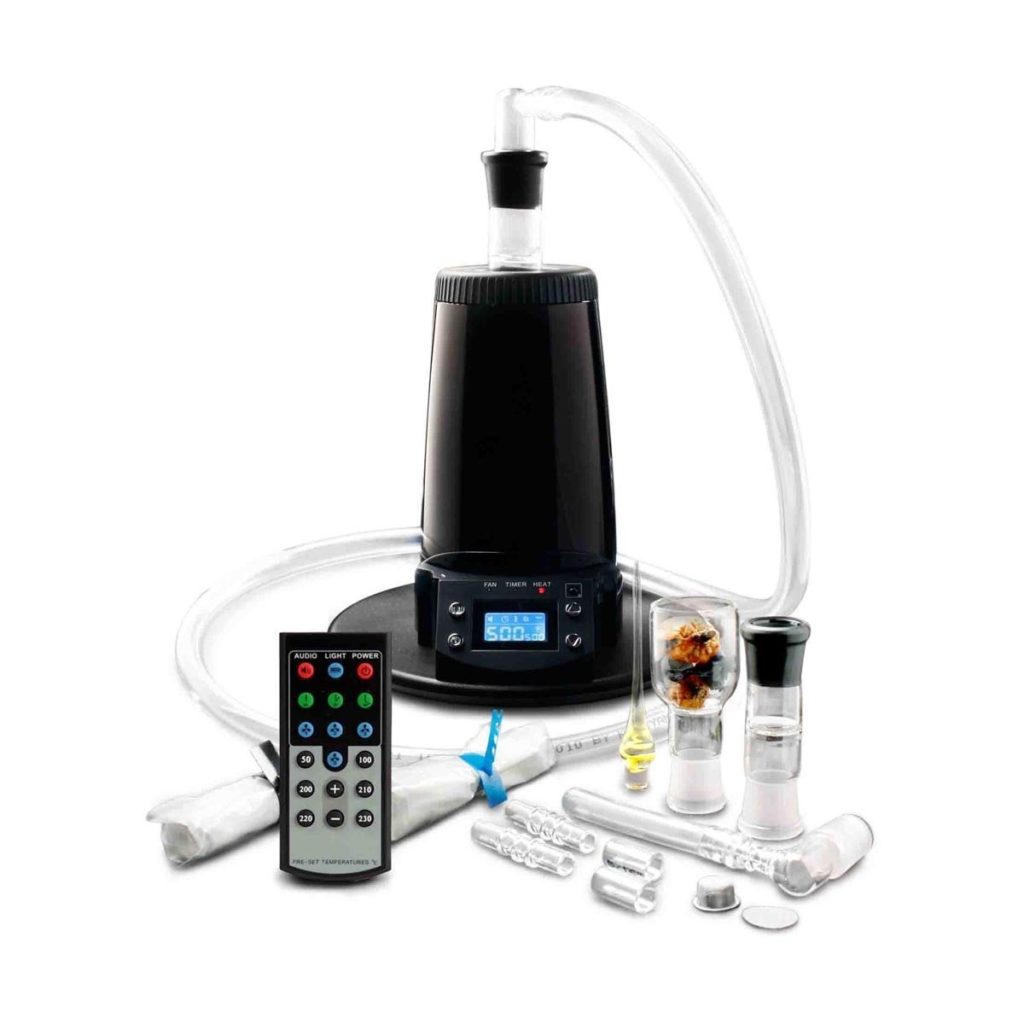 Arizer has combined two things making it a major player in the vape market: quality and affordability. It is primarily a dry herb vaporizer, but it does allow for the use of other dried flowers. It can also be used as an oil diffuser, making the Extreme Q a truly multipurpose device. The digital temperature display and precise temperature control are also on offer. When it comes to delivery method, users are offered the choice of whips or bags, both of which come in the box.
Pros:
Durable and quiet

Varied delivery options: whip, balloon, and water pipe

Price

Quality
Cons:
Compared to competitors, bag fill time takes longer

Manual controls are not easy to use

Glass parts can become hot when in use, requiring a cool-down time
The Takeaway
The Arizer Extreme Q is a great desktop model that produces outstanding vapor and offers multi-functionality at a lower price point than some of its competitors. For those looking for a desktop vaporizer while on a budget but still want quality, the Extreme Q is definitely a solid choice.
Arizer V Tower: Best for Those Who Prefer a Whip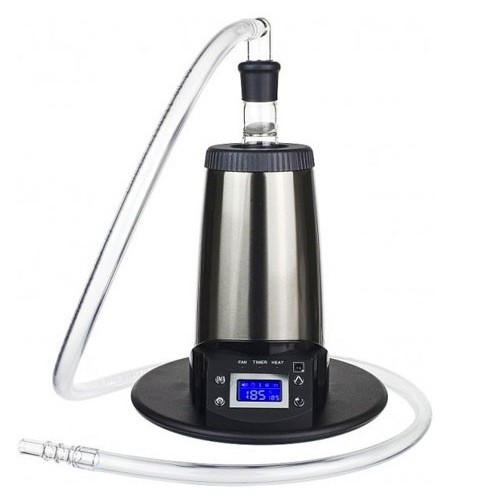 Another offering from Arizer, the V Tower offers Arizer's impressive quality at an affordable price. Slightly less complex than its sister product, the Extreme Q, the V Tower has a similar appearance. It also offers some multi-functionality with its potpourri disk. However, the Arizer V Tower only allows for usage of a whip, so those who prefer using bags might feel a little put-off. The V Tower produces quality vapor and is lightweight and has a sleek appearance.
Pros:
Easy to use

Looks like a premium unit

Outstanding vapor quality

Affordable
Cons:
No bag attachment

Whip length is short
The Takeaway
A great value for the money, the Arizer V Tower offers Arizer's unbeatable quality and outstanding vapor production. Pairing durability with ease of use, the V Tower is a definite choice for those looking for a reliable but affordable desktop model that will provide years of quality vaping.
Da Buddha Desktop: Best Simple, Easy to Use Desktop Vaporizer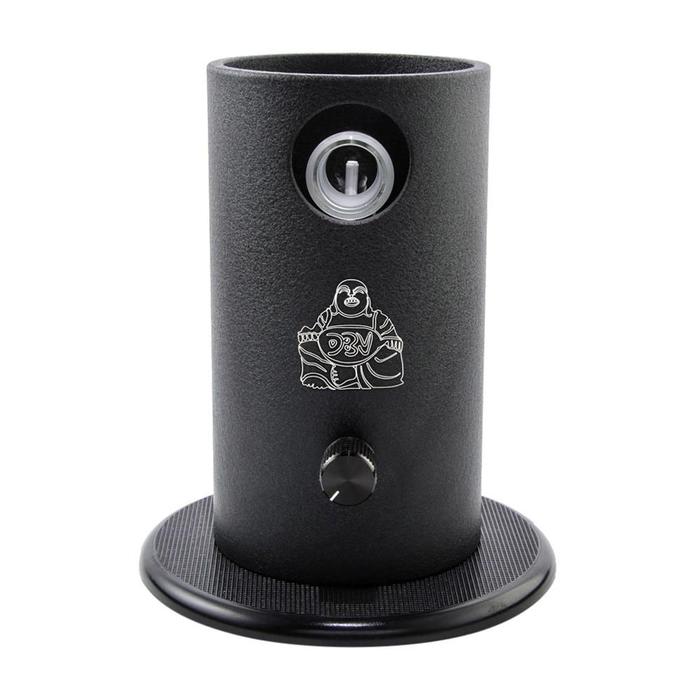 When it comes to simplicity, the Da Buddha desktop by 7th Floor beats all. There are no complicated displays or buttons. There is just one knob, which functions as both its power switch and temperature control. While it may lack in fancy features, the Da Buddha desktop does provide quality vapor. It's ready for use in about 2 to 3 minutes and despite not having precise temperature control, the temperature settings are pretty effective. The Da Buddha also has an attractive price point, making it a great starter model for those wishing to test out desktop vaping.
Pros:
Above average vapor quality

Inexpensive desktop option

High-quality ceramic heating element

Easy to use
Cons:
Dry herbs need stirring often to prevent carbonizing

Fragile glass components

No precise temperature setting

The way the whip fits into the heating chamber is awkward
The Takeaway
The Da Buddha desktop vaporizer provides ease of use and an attractive price point, which is a plus for novice vaporizer users. The ceramic heating element is durable and comes with a three-year warranty. Even after the warranty expires, replacement parts are available at a decent price. There is some awkwardness with the way that the whip and heating chamber fit into the device, but that can be allayed with a bit of practice. Overall, the Da Buddha is a sound vaporizer at a reasonable price.
Vapor Brothers Vaporizer: Best for Beginners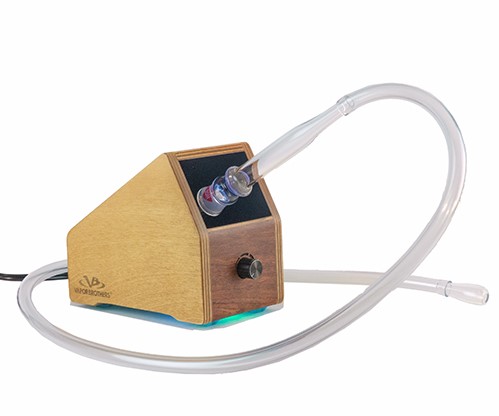 Vapor Brothers have been producing this vaporizer since 1999, so it's got twenty years of manufacture behind it. A simple design, the knob acts as both the on/off switch as well as the temperature control. The standout thing about this vaporizer is that, like a few others on this list, it has a ceramic heating element which allows for the purest vapor with no metal to interfere with the taste of your flower. The unit is quiet as there is no fan to force the vapor through the mouthpiece.
Pros:
Simple and functional

Great vapor flavor

Ceramic heating element
Cons:
Only has a whip function

No fan, so draw is manual

No precise temperature controls

Heat up time
The Takeaway
The Vapor Brothers have produced a no-frills, easy-to-use vaporizer that is perfect for those who want to try a desktop vaporizer. This vaporizer produces quality vapor that is typically found in vaporizers at a higher price point. Although you can only use a little bit of flower at a time, this vaporizer makes sure that the flower doesn't go to waste.
Life Saber Vaporizer: Best Cool-Looking Desktop Vaporizer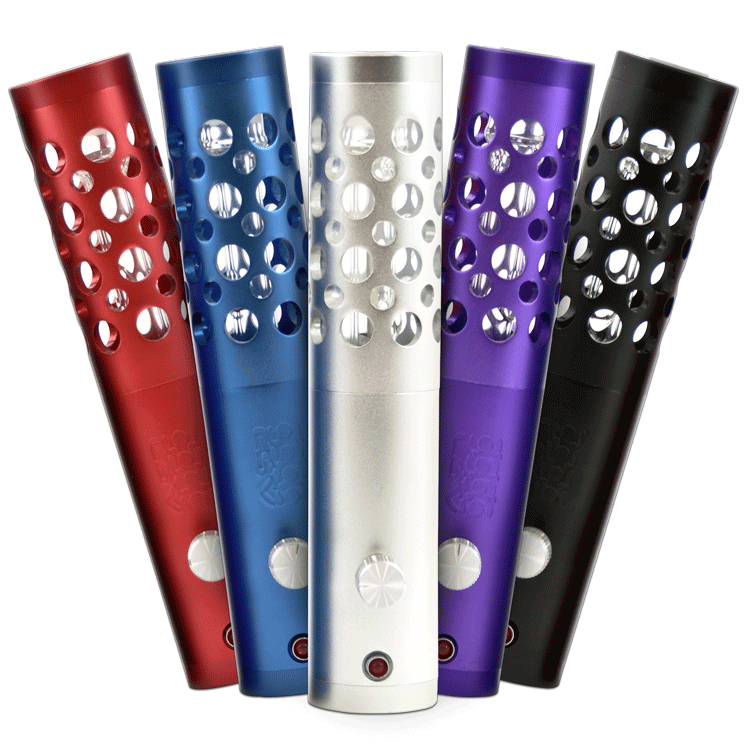 Another model from our friends that made the Da Buddha, the Life Saber vaporizer is not exactly as large as other desktop models. It uses convection heating instead of directly heating the vape, which is a big plus in avoiding combustion. The long glass wand makes sure that the vapor is cool by the time it reaches your mouth, and the design itself is pretty cool. It pretty much matches the Da Buddha in vapor quality, however, there are better vaporizers out there for the price point of the Life Saber.
Pros:
Cool design
Outstanding vapor quality
Ceramic heating element doesn't interfere with taste
Cons:
Glass parts prone to breakage
No precise temperature control
Have to remove wand to stir flower
The Takeaway
7th Floor already has the reliable and recommended Da Buddha vaporizer, which uses the same ceramic elements and glass tubing for outstanding vapor taste and quality. However, you're better off spending a few dollars more for a better vaporizer if you can afford it.
Buyer's Guide
Desktop vaporizers have long been the choice of medical marijuana users, thanks to the quality of vapor that a desktop model is capable of producing. They can be a bit more of an investment than many portable dry herb vaporizers, due to their size and the technology involved. Therefore, careful consideration should be given to the purchase of a desktop dry herb or concentrate vaporizer.
Things to consider when buying a desktop vaporizer
What is your budget?
Even the lower-end desktop models are going to cost over $100, and some of the top-end models, like the Volcano Digit, can run up to $600.
Will you be using dried flowers or concentrates?
Like portable vaporizers, some desktop vaporizers allow for using either concentrates or dried flower. However, some only allow for the use of one or the other. Buy a desktop that meets your needs as far as the product you use most often.
Do you prefer a whip or a bag?
As with dried herbs or concentrates, some vaporizers allow for the use of either a whip or a bag, while others support only a whip. Deciding which you prefer to use can help you zero in on a desktop that is appropriate for you.
Get the Right Desktop Vaporizer for You
A desktop vaporizer is a huge investment, so it's important that you make a decision based not only on your needs but your experience and your tastes. If you just want a simple, no-frills model, all of the parts that come with the Volcano Digit might frustrate you. If you want precise temperature control, one of the analog vaporizers like the Da Buddha might not work to your desires.
Frequently Asked Questions
Is vaporizing cannabis healthy?
Cannabis itself is now being proven to be helpful in treating a wide variety of symptoms. However, until the popularity of vaporizers, the primary means of consumption was combustion. Combustion produces carcinogens which can be harmful, which is counter to the help cannabis provides. Vaporizing cannabis produces no carcinogens, and as a bonus, helps to release the beneficial cannabinoids and terpenes.
Which is better? A whip or a bag?
This is one of those preference questions. Many of the whips and bags that come with vaporizers are made out of medical-grade materials. This means that the materials are safe and likely will not give any unwanted flavor to your vapor. However, some prefer a bag because of the quantity of vapor that can be dispensed. Others prefer the direct draw of a whip.
What are the benefits of precise temperature control?
Cannabis releases specific terpenes and cannabinoids at certain temperature ranges. By tuning into the correct temperature for the cannabinoids you want to be released, you can ensure that you are releasing all of the THC or the CBD and not rendering it useless by vaporizing it at too high or too low a temperature. Precise temperature control allows you to dial into the correct temperature for the best therapeutic result when vaporizing cannabis.
Which of these desktops is the best vaporizer for you? The answer is entirely relative, but any one of these desktop vaporizers deserves a spot on any best vaporizer list. Depending on your personal preferences and experiences, finding the right desktop vaporizer for you will require a little research and thought.
If you're just looking to test the waters a little bit and try a desktop vaporizer for the first time, one of the more budget-friendly devices might be right for you. Once you've decided that you like it and want to upgrade to a more expensive model with more features, you can certainly go that way. In the end, much of the vaping experience comes down to preference, so make sure that you choose a desktop vaporizer that meets both your needs and desires.